Patrice Williams was born and raised in Eastern North Carolina and represents a small town called Margarettsville North Carolina. Patrice received her Bachelor's degree in Psychology from UNC-Chapel Hill and her Master's Degree in Social Work from UNC-Charlotte. Later, Patrice went on to become a Licensed Clinical Social Worker.
Patrice has always lived by two mottos, "it takes a village" and "if you can, always extend a hand". Patrice's family was the epitome of a village, demonstrating and teaching what support, compassion, love and understanding truly means. Patrice was influenced to join the helping profession by watching her mother and grandmother help and advocate for others in need providing shelter, transportation or a hot meal all while trying to make ends meet. From this, Patrice learned that no one is better than the next person and that all people deserve to be treated with respect and dignity no matter their circumstance.
Patrice found her love for social work and mentoring while being a Resident Advisor, later a Resident Advisor Mentor, and McNair Scholar. Learning to understand the connection between mental health, generational trauma, resources, and the outcomes in adulthood, really pushed Patrice's passion for being a resource for those from less advantageous backgrounds. Patrice also became a member of the Kappa Omicron Chapter of Delta Sigma Theta Sorority Inc. A service sorority founded on the principles of Sisterhood, Scholarship, Service and Social Action. The combination of the above fueled her passion in advocacy. While at UNCC, Patrice engaged in community organizing by taking a stand for people of color whose voices were silenced or overlooked. Patrice founded the Graduate Student PRIDE Association (gsPa) to provide resources to the LGBTQ+ community and acquired a grant to bring resist racism workshops to UNC-Charlotte. Patrice also held other leadership positions that addressed food and financial insecurities and provided shelter. Patrice gained clinical experience by providing family, individual, and group therapy and has become a certified PCIT and SPARCS therapist. Patrice also served as a Mental Health Liaison, providing crisis interventions, assessments and therapy for Child Protective Services and Adult Protective Services.
After providing direct care for 5 years, Patrice remembered what influenced her journey and that was her village back home. Seeing that Charlotte Family Housing takes the "village" approach to empower working families through advocacy helped her to feel at home when joining the team. In her free time, Patrice enjoys spending time with her family during family game nights and going on family trips. You will also find her playing some type of sport or watching cooking shows and Disney Movies.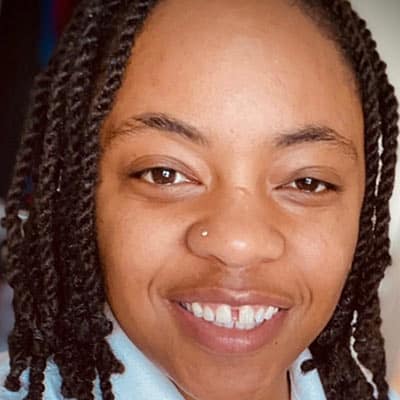 ---