Hope Teams help empower families…social workers are the coaches, Hope Team members are the cheerleaders.
A Hope Team generally consists of three to six volunteers who partner with a family to provide encouragement and HOPE to support families on the path to long-term success and self-sufficiency. Hope Teams are the "cheerleaders" who provide friendship and a network of support to families who may otherwise not have anyone.
---
Hope Teams effectively engage with families by:
Tutoring, mentoring or just being an example to a child in the family
Celebrating birthdays, holidays, and graduations
Assisting with budgeting goals
Participating and planning fun activities
Helping prepare for parent/teacher conferences
Supporting the parent in educational and career goals
Helping families stay encouraged and motivated
Being someone that families can relate to…
---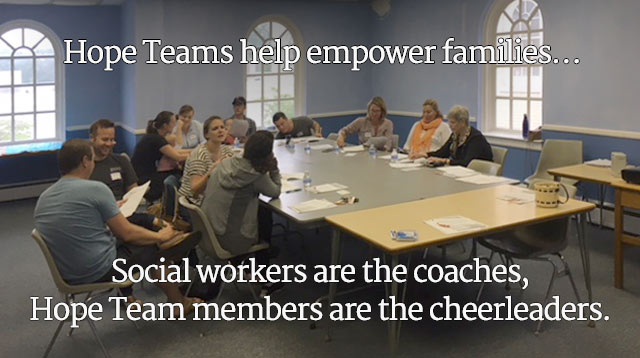 ---
A Different Kind of Volunteering:
Hope Teams are one of the most meaningful and engaging volunteer experiences that Charlotte Family Housing offers. It is the best way to provide intentional, sustained personal investment in families and social capital to promote economic mobility and long-term positive outcomes. Serving on a Hope Team involves a two-year commitment to walk beside one of our families as they participate in the Charlotte Family Housing program. Hope Teams enact a group mentorship model that involves the interaction of several volunteers with a family to provide well-rounded support.

Prospective volunteers must attend a Hope Team training that incorporates information on the impact of poverty and trauma, and promotes self-awareness to assist in ensuring a positive experience for both families and volunteers.
---
The safety of our clients is always our primary concern. For that reason, ALL volunteers must complete a background check through our preferred service provider, Sterling Volunteers. There will be no exceptions to this policy. For more information on the background checks we require, please visit https://www.sterlingvolunteers.com/.