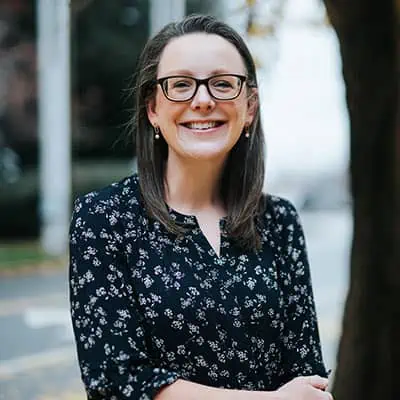 Alice Marleaux loves people, community, and dreaming with others about making the world a better place.
Born and raised in multiple countries, Alice grew up in different cultures and learned early on the importance of relationships. Alice earned a Bachelor's Degree in Philosophy and Religion and French from Queens University along with a Master's of Business Administration from Queens University (Go Royals!). Her previous experiences, that lead her to Charlotte Family Housing, include a volunteer year in Honduras, leading volunteer and service projects in the Chaplains office at Queens, and managing grants and community engagement at Christ Episcopal Church. She has volunteered at Room in the Inn, Habitat, and many other nonprofits.
As the Chief Engagement Officer, Alice and her team get to invite the Charlotte community into the work of Charlotte Family Housing. Whether in volunteer hours, financial dollars, or work experience, Alice believes everyone has a gift to offer. The Engagement team is responsible for development, volunteers, and marketing and communications. Alice frequently says she has the best job in the world because she gets to share Charlotte Family Housing with anyone who will listen!
Outside of Charlotte Family Housing, Alice is a mom to a spirited, curious almost 7 year old and a social butterfly 3 year old. Alice loves spending time with them and her husband. She also likes to make to do lists, read, buy house plants and eat tacos.