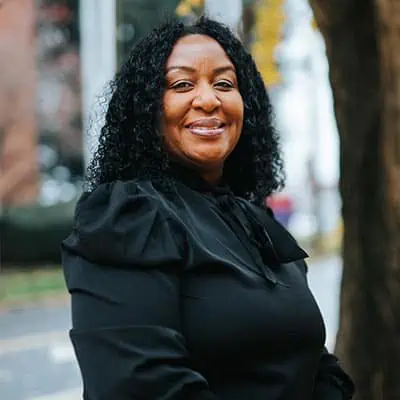 Dekina Watson is a Charlotte native with an educational background in the fields of Social Work and Africana Studies. Prior to joining Charlotte Family Housing (CFH), Dekina worked as a Resident Advisor for the Center of Hope, which is the emergency shelter for women and children at The Salvation Army in Charlotte. There, she assisted up to 400 women, children and veterans each night.

A CFH employee informed Dekina of an opportunity to serve our organization as a Resident Advisor. Upon learning more about CFH's programs designed to empower working families experiencing homelessness, Dekina felt aligned with and passionate about the mission. Her journey with CFH began as a relief Resident Advisor in October of 2015. She was quickly promoted to the Lead Resident Advisor then elevated to Shelter Community Manager in June of 2018.

Dekina manages the operations of our two shelter sites. As a manager, she tries to inspire others to be leaders. One of her Resident Advisors describes Dekina as, "very compassionate, fair and consistent; she is mission-focused with a 'residents-first' mindset."

When not serving her community, Dekina enjoys painting, bike riding, and planning for the next vacation with her husband and their four children.