Fundraiser with The B Sharp Band: Stacy's Mom's Night Out – a celebration of Pop and Rock hits from the '90's and '00's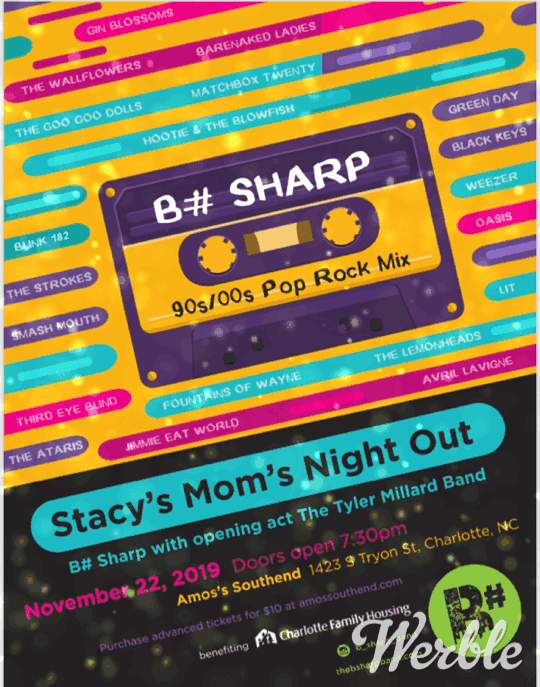 This highly entertaining evening will begin with opening act, The Tyler Millard Band, and continue when The B Sharp Band hits the stage. All of your favorite hits from the 90's and '00's will be played, featuring covers of artists like Avril Lavigne, Green Day, Weezer, Oasis, Lit, The Lemonheads and The Black Keys. Whether a one-hit wonder or a multi-platinum record, if it's a song you love from that era of music, you'll likely hear it on November 22nd at Amo's Southend. Tickets can be purchased in advance for $10 at amossouthend.com. All proceeds benefit Charlotte Family Housing.
Doors open at 7:30 PM
Tickets are ON SALE NOW for $10 HERE.
AMAZING NEWS! An anonymous donor has offered to MATCH all ticket sales for this event. What a fabulous fundraiser, right in the heart of Giving Season! We're extremely grateful for The B Sharp Band, Amos' Southend, the generosity of this kind donor and YOU!
Thank you for rocking out in support of Charlotte Family Housing!